NASA says it will launch no earlier than April 14th

Image courtesy of NASA
Back in February, NASA's Perseverance rover landed on the surface of Mars. Perseverance is equipped with all sorts of amazing tools and gadgets - including the first ever Mars Helicopter, Ingenuity.
Originally, the helicopter was scheduled to attempt its first flight early Monday morning, but data that NASA scientists received late last week have caused them to postpone the flight to no earlier than April 14th (that's today - wonder if we'll get an update soon?). In any case, whenever this little 4-pound helicopter does attempt its inaugural flight, you'll be able to watch via NASA's livestream.
Last week, scientists at NASA located a spot on the surface that was flat enough and free of obstructions and plopped Ingenuity there to prepare for its first flight. Mission controllers have spent the last several days making final adjustments to prepare, including a test of the motors and the releasing of the helicopter's motor blades.
The JPL team will transmit flight instructions to Perseverance, which will then relay the info to Ingenuity. There were many factors that could potentially delay the flight - including high winds or other inclement weather - but according to NASA's press release, there was a different reason for holding off on the launch.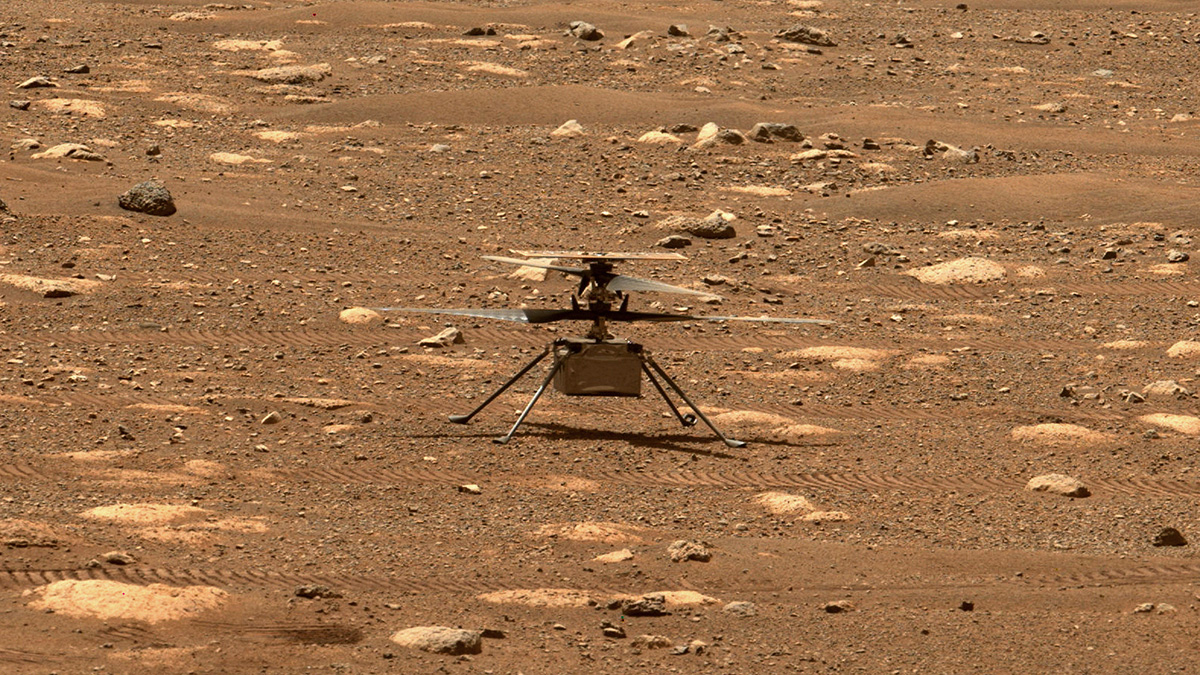 Image courtesy of NASA
"During a high-speed spin test of the rotors on Friday, the command sequence controlling the test ended early due to a "watchdog" timer expiration. This occurred as it was trying to transition the flight computer from 'Pre-Flight' to 'Flight' mode. The helicopter is safe and healthy and communicated its full telemetry set to Earth," NASA said in a release on their website.
"The watchdog timer oversees the command sequence and alerts the system to any potential issues. It helps the system stay safe by not proceeding if an issue is observed and worked as planned."
During a press conference, Ingenuity operations lead at JPL Tim Canham said that we should expect about 40 seconds worth of data. Ingenuity is equipped with a downward facing camera that will snap photos during the flight, snapping images about 30 times a second. The camera, in addition to documenting the flight, will serve as an altimeter to help mission planners localize the chopper's landing spot. The Perseverance will also attempt to capture images of the test flight via its Mastcam-Z camera.
Assuming the flight goes well, this the first time in history that NASA - or any other space agency - has successfully attained power controlled flight on an alien planet. The success of this mission could introduce an entirely new dimension to exploration of the Red Planet.
If you want to make sure you don't miss the test flight, you can keep an eye on NASA's official schedule here. I know I'll be keeping an eye on it - how about you? Science is cool!

A concept art piece of Ingenuity in flight. Image courtesy of NASA
Please login to comment and/or vote for this skin.
Welcome Guest! Please take the time to register with us.
There are many great features available to you once you register, including:
Richer content, access to many features that are disabled for guests like commenting on the forums and downloading skins.
Access to a great community, with a massive database of many, many areas of interest.
Access to contests & subscription offers like exclusive emails.
It's simple, and FREE!