Thursday, October 21, 2021 by Tatiora | Discussion: Stardock Blog
I am a lover of soups, stews, and chilis.
The very second the weather dipped below 60 here in Michigan, I popped my head out the door and bellowed "SOUP SEASON!"
...you think I'm exaggerating or being dramatic, but I'm not. My friends (and my poor neighbors) will attest.
Anyway, I'm not the only one who loves this time of year around here! Fall sees all sorts of fun activities popping up at Stardock, from visits to Cider Mills, to Halloween costume contests, and of course also chili cook-offs. We missed out on pretty much all of these things last year, so we're hitting 2021 with a vengeance.
Last week was our annual chili cook-off, and we brought our best offerings to share with our coworkers and appeal to their better judgments. Some people even teamed up and took to google to find the ultimate recipe for the competition! We had a lot of delicious chilis to taste that day.
Our six competitors were:
Bacon's The Bomb Chili - Traditional style red chili with ground beef and bacon
Chili.lua - Dark chocolate chili with stout and beef stew chunks
Dance Magic Chili - White chicken chili with green chiles, cream, and cumin
Verde Chicken Chili - Chicken chili with green chiles
Winning Chili - Traditional red chili
M-34 Chili - Dark chili made with beer
After vigorous taste testing (and some precarious balancing acts trying to get all the tasting cups back to our seats!), we voted via a QR code that Raeann, our one of our brilliant members of the Operations team, set up for us. A dramatic drumroll or three later, we had our winners!
Debbie's Bacon chili came in at 3rd place, followed by Max and Jacob's dark chocolate chili. Their medal is being beautifully modeled by Scherzer, one of our resident office doggos.
My white chicken chili took 1st place, and the trophy is now nestled on my desk next to several other Stardock prizes and mementos I've collected through my years here.
We do cook-offs occasionally here, and it's always fun to see what different tastes and experiences everyone brings with their cooking! Some of us bring tried and true family favorites, while others do some online research, find one that looks good, and gives it a whirl. Every method is valid and delicious - I'm looking forward to whatever our next cook-off is going to be!
Do you have a favorite chili recipe? Have you done cook-offs at work or with friends before? Tell me about it!
Fences, Groupy, and Start10/11 are the real MVPs
Thursday, October 14, 2021 by Tatiora | Discussion: Stardock Blog
If you know me, then you know that the idea of me writing about any form of organization is a ploy of comedy in and of itself. Still, as all over the place as I am with just about every aspect of my life, that doesn't stop me from trying to be more organized.
I spend quite a lot of time at my computer, both for work and for leisure. Beyond a few very important things, I don't really have much of a system for where I put documents or shortcuts - they just sort of get lobbed on the desktop as a problem for future Kristy to swear over while she tries to find wherever the $*#! she put that really important program she needs right now.
Obviously, this isn't very efficient, and is certainly more than a little frustrating. I've gotten a lot better about this in recent years, and I admit that the primary reason for that is the software I started using when I came to Stardock back in 2015. A few programs in particular have defined my workflow over the years, and I'd like to share a brief overview of them with you. Let's take a look!
Fences
This program seriously revolutionized how I manage my Windows desktop space. I use it both at work and at home, and whenever I find myself trying to navigate a PC without it, I feel a little bit lost. I run two monitors at home and actually have them split for work and play, just so I can find what I need more easily. I talk about it a bit more in a blog here.
If I didn't have two monitors, I would probably use the "pages" feature in Fences so that I could swipe between my personal leisure apps and my professional work programs. I also take a lot of screenshots, so being able to double-click on the desktop to hide all of my icons is super convenient. Most of all, though, I just love how I can make categories and then sort items into those fences based on setting specific rules pertaining to them. If you haven't made use of that feature, definitely make sure you try it out!
Groupy
Where do I even begin with Groupy? It was honestly a program that I had no idea I needed until I had it, and now I can't live without it. Not only is Groupy a huge space saver, but it also lets me sort my work into categories, which is really important for what I do. Because I'm on the marketing team, I have my hands in a lot of different projects at once, sometimes bouncing between multiple different titles within a single day. Groupy helps me keep them all apart.
When I stream, I love being able to group Xsplit, my Twitch channel, my Discord, and any other notes or websites I might need for the game I'm playing onto one monitor while my game takes up the other monitor. I then set a hotkey and use it to tab between them easily while I'm streaming - I don't know if I can ever go back to not having this app! If you want to read about it in a little more detail, you can check out a blog I wrote here.
Start10/11
I held onto Windows 7 as long as I possibly could before I built a new PC for myself and had no choice but to move onto Windows 10. The thing about change is that we all tend to resist it at first - I think it's a fairly natural thing! - and then eventually fold over into acceptance when we realize that maybe it wasn't so bad after all. In the case of Windows operating system, this seems to be a very cyclical thing - and I know many of us are experiencing this very emotion with Windows 11 right now!
When I got to Stardock, the IT team asked me if I would like Start10 installed on my computer. When they explained to me what it was, I absolutely said yes - and then was overjoyed to see the return of my familiar and favorite menu style. When Microsoft announced Windows 11, we launched immediately into developing Start11, which I currently have installed (along with the new OS) on my laptop. Start11 not only helps me restore my favorite versions of the Windows menu style, but also extends that to support a bunch of new menu ideas like the concept of pages and minimalism.
The newest update to Start11 released today, actually - if you're a Start11 user, make sure you try out Release Candidate 2!
Those are my top 3 organization apps for my Windows PC. What are some of your favorites and how do you use them to keep yourself organized? Share with me!
Thursday, October 7, 2021 by Tatiora | Discussion: Stardock Blog
If you're a Windows user, then you've definitely had this happen before.
You're playing or working, deeply engrossed in whatever it is you're doing, and then suddenly your computer alerts you to a Windows update! Or, in some cases, just shuts down and decides to update right then and there. It's obnoxious, it's frustrating, and now it's hopefully a thing of the past.
Windows 11 launched just a couple of days ago and Microsoft had been telling us quite a lot about their new OS leading up the launch, including providing details on how Windows 11 intends to deliver seamless updates that will be 40% smaller than those of Windows 10. These updates are supposed to take place with a lot less frequency, which means they shouldn't interrupt what you're doing - a bonus!
According to Microsoft, Windows 11 will have fewer feature updates than Windows 10 did, with a single feature update released every year, much like Apple's annual macOS updates. In order to achieve this, Microsoft has made some quality-of-life improvements to Windows 11's updates.

Image credit: Microsoft
When a new patch is available and you go to check for updates, Windows 11 will compare the contents of the new update with what's already installed on your PC. That way, it will only download the necessary parts of what you need, which makes the size of the update significantly smaller and way more efficient.
Windows 11 users will see their updates downloaded automatically when they aren't actively using their PC thanks to a new version of Microsoft's AI and machine learning software. Although there's a lot about upcoming Windows 11 updates that are great, it should be noted that the updates won't necessarily be faster. You will still have to restart your machine after an update and stare at a blank screen while it implements for a bit.

Image credit: Microsoft
Microsoft launched Windows 11 just two days ago on October 5th and will continue to roll it out gradually over the next few months. If you're planning to make the move over to the new OS and want to jump right into customizing, make sure to check out Start11 and the other great programs in our Object Desktop suite, many of which can still be utilized on Windows 11.
Did you download Windows 11 yet? Tell me about your favorite features!
Thursday, September 30, 2021 by Tatiora | Discussion: Stardock Blog
In news that shouldn't be especially shocking: we really love games here at Stardock.
This extends beyond just PC and video games and well into things like board games and tabletop RPGs like Dungeons & Dragons. I've definitely talked about it before, but I also have a fairly sizeable board game collection at home. Before the pandemic, I used to bring games in fairly regularly and have game nights so that my coworkers and I could enjoy playing some together.
Earlier this month, we held our first in-person game night in over a year. About 22 of us showed up to play games and eat Italian food that Raeann (one of our awesome HR peeps) and I prepared. Throughout the pandemic, there were several new hires at the studio who have all been working remotely like the rest of us, and many of those people whose faces we hadn't yet seen in person drove in to share some home cooked food, play a few games, and indulge in some good old-fashioned comradery.

Raeann and I went downstairs after work and made
garlic bread, mostaccioli, and salad for everyone!
This is the largest game night I've ever had at Stardock, and I loved it! Normally we'd average between 8-10 people and would have to break out games like Codenames or Avalon in order for us all to play together. There aren't too many games that can comfortably handle 22 people, so I brought a selection (two large Sterelite tubs worth!) and encouraged everyone to pick whatever they wanted to play.

Everyone fueled up on pasta before we got to the games!
After we stuffed ourselves full of carbs, we broke off into groups and started in on our first games for the evening: Codenames and Secret Hitler. I was finally Hitler for one of these games and I couldn't get anyone to make me chancellor, which was super disappointing! I guess I just don't look innocent enough.
We continued to flip between games throughout the evening; below, I'll give a quick rundown of each game and what they're like so you can check them out for your next game night!
Obscurio
This is one of my favorite co-op games! In Obscurio, you're playing as a wizard who is in possession of a magical grimoire and is trying to escape the evil wizard's library. One of your companions has been enchanted by the wizard, though, and is actively working in secret to try and trip you up and force you to pick the wrong path, thus trapping you in the library forever.
One player plays as the grimoire, who gives clues and tries to guide the players to safety, while up to six other people can play as the wizards, with one hidden traitor among them. As gameplay progresses, the wizards must find ways to work around traps that make the grimoire more difficult to interpret, all while wondering just who exactly among them is in cahoots with the wizard. It's an exciting game that relies heavily on teamwork and abstract thinking, and is very much loved by most of us here at Stardock.
Codenames
Codenames is a team game of secret words and deduction. Two rival spymasters know the secret identities of 25 field agents, but their teammates know the agents only by their codenames. In this game, two teams compete to see who can make contact with all of their agents first. To do this, the spymaster will give their team a one-word clue in hopes of getting them to guess the correct word on the board - but be careful! If you don't choose your clues wisely, your team might end up picking the codename of a rival agent, a civilian, or an assassin, which will instantly end the game and give victory to your rivals.
This game is fun and challenging - and it feels like it changes and is different every time depending on who's on your team and who is playing as the spymaster. It's a relatively inexpensive buy and can accommodate a larger number of players, so I definitely recommend keeping it on hand for impromptu game nights!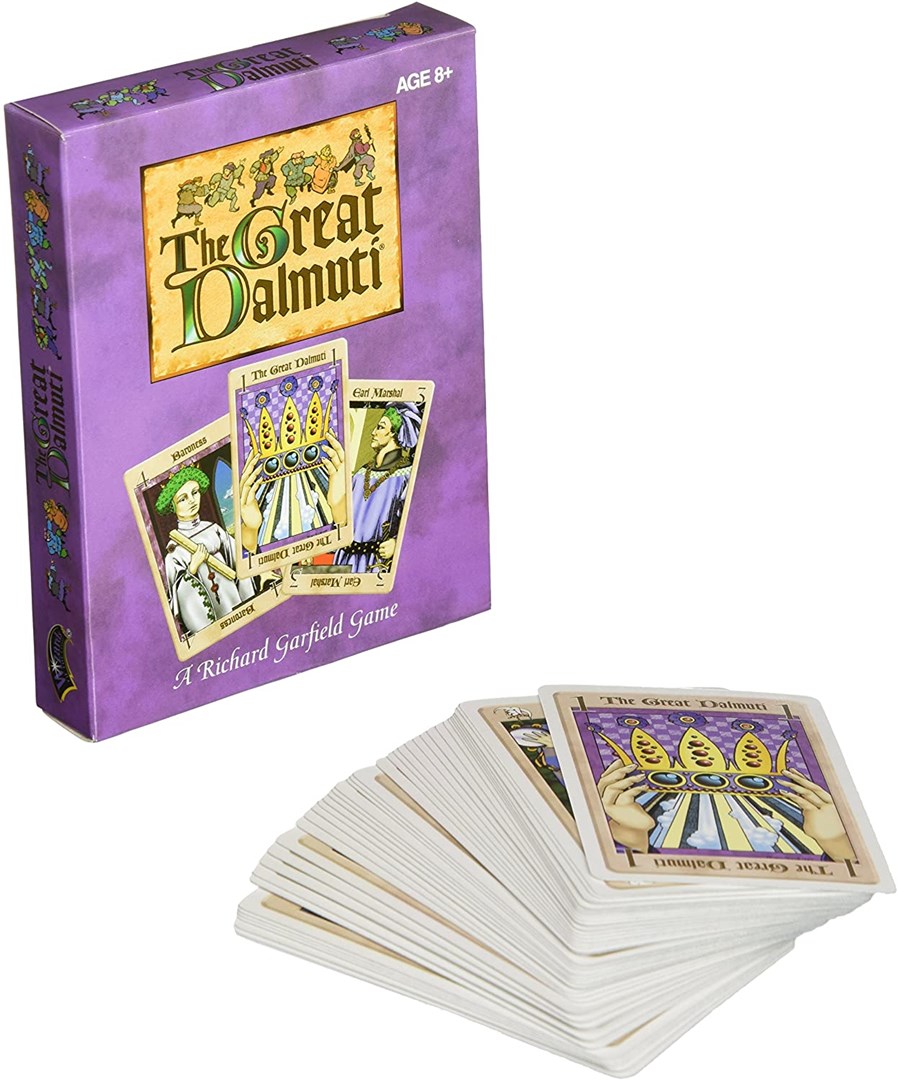 The Great Dalmuti
This game has been around for a long time - I remember playing this at the hobby shop in high school! - but it's still one of my favorite games to break out in a group of people. This light and easy card game can play up to 7 players and honestly, the more the merrier! The goal is to empty your hand first, a feat that is much easier if you are lucky enough to find yourself in the position of being either the Greater or Lesser Dalmuti, a ruler who can tax the best cards out of their peons' hands.
This game requires players to shuffle seats - we also used silly hats! - whenever their position changed. Our table was constantly roaring with laughter, and because the game is so easy to teach we were able to get up and playing right away, so we got several rounds in before we moved onto our next activity.
Secret Hitler
We love social deduction games here at Stardock. I keep telling Derek that maybe betrayal and lies doesn't make for the best team-building activity, but that doesn't stop us.
Secret Hitler is a dramatic game of political intrigue and betrayal set in 1950's Germany. Players are secretly divided into 2 teams: liberals and fascists. Known only to each other, the fascists must coordinate to sow distrust and install their cold-blooded leader, while the liberals must find and stop the Secret Hitler before it's too late.
Each round, a player takes the mantle as president and must propose a chancellor for election. Working together, they enact a law from the deck, but the chancellor could be forced into passing a law they don't want to pass depending on what their president gives them! Because all laws are viewed in secret, the players only have the president and chancellor's word to go off of, which can spread a lot of chaos very quickly.
If the Secret Hitler is ever elected chancellor after 3 fascist laws have already passed, the fascists automatically win. If the liberals manage to pass 5 liberal laws before this occurs, they win. The game is fast-paced and chaotic, and hits the table, along with the game Avalon, quite often at Stardock gatherings.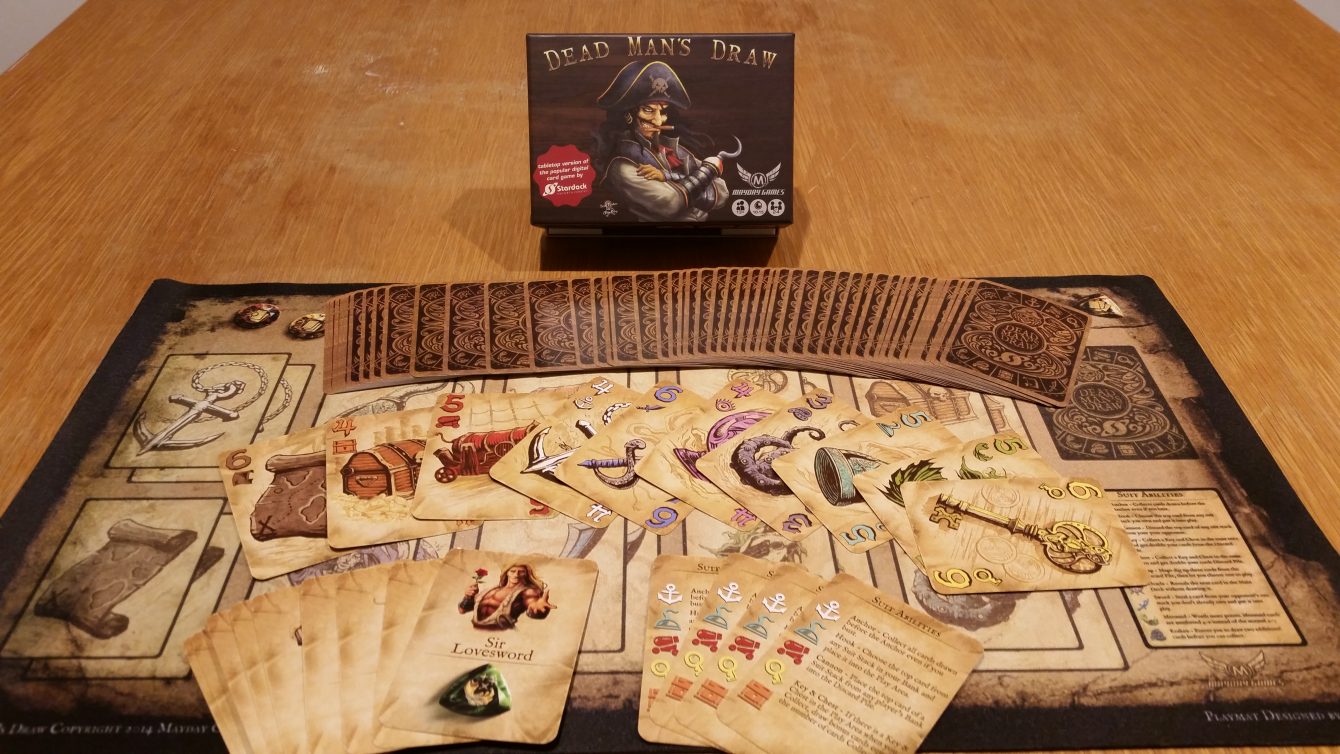 Dead Man's Draw
Look familiar? This game is honestly one of my absolute favorites in my collection because it is so easy to teach and everyone who has ever learned it has had an absolute blast! We have a lot of new Stardock blood here now, so I thought it was more than appropriate to introduce them to our only physical board game.
In Dead Man's Draw, you push your luck trying to score the most points by trying not to bust as you flip cards over out of the deck. If you ever flip up a suit that you already have in the lineup, you bust and don't get to score any cards for that round, so be sure to know when to stop!
Each suit has its own special ability, ranging from blowing up or stealing an opponent's card, protecting previous cards in the lineup, or even forcing you to flip over 2 cards whether you want to or not. The gameplay is fast paced and easy, and I know that the new Stardockians really enjoyed the game as much as I enjoyed teaching it!
Well, that was our game night in a nutshell! What are some of your favorite board games, and have you played any of the ones above? Tell me about it!
Technology is cool.
Thursday, September 23, 2021 by Tatiora | Discussion: Stardock Blog
I am constantly amazed by the things technology has evolved to do.
If you'd told me 15 years ago that we'd move past dial-up internet and have the sheer amount of information at our fingertips that we do today, I'm not sure I would have believed you. Honestly, I still hear that AOL dial-up tone in my head sometimes - is it just occasional nostalgia, or am I going a little nuts? Probably both.
Anyway.
People are always finding new ways to make technology work for us, and especially for kids, who have grown up in a time unlike any we experienced as children. From online schooling, to the first ever FDA-approved video game treatment for ADHD, and now Moxie, a robot designed to help kid with social-emotional learning, technology continues to find ways to make life a little easier.
A couple weeks ago, this advertisement appeared in front of a YouTube video I was watching:
Initially, I was like "WTF?" and about to click through, but then I paused. I worked with kids for a long time before coming to Stardock, and something about this tugged at my heart and made me watch through the end.
I know that technology isn't the answer to everything; in fact, there are definitely times when I would advocate for less screen time for kids and so on. But, I have also been the teacher in that classroom with a kiddo who struggles to connect with their peers, or who just doesn't feel safe or comfortable advocating for themselves and their needs.
Moxie is presented by a start-up robotics company called Embodied and is designed to "help promote social, emotional, and cognitive development through everyday play-based learning and captivating content." Now, it's not like the idea of these social robots is new, but this one is different.
Unlike other social robots, Moxie specializes in one thing - emotional development - and keeps its interactions focused there, rather than trying to be an over-generalized robotic friend. By having short 15-20 minute interactions with Moxie daily, kids will be able to lessen that interaction and hopefully apply what they've learned to other social relationships.
The short daily interactions provided by Moxie are supposed to help aid in learning communication skills. From Embodied's website:
"With Moxie, children can engage in meaningful play, every day, with content informed by the best practices in child development and early childhood education. Every week is a different theme such as kindness, friendship, empathy or respect, and children are tasked to help Moxie with missions that explore human experiences, ideas, and life skills.
These missions are activities that include creative unstructured play like drawing, mindfulness practice through breathing exercises and meditation, reading with Moxie, and exploring ways to be kind to others. Moxie encourages curiosity so children discover the world and people around them.
All these activities help children learn and safely practice essential life skills such as turn taking, eye contact, active listening, emotion regulation, empathy, relationship management, and problem solving."
Personal feelings on efficiency aside, this technology is really cool. It could really help some struggling kids out, or it could just get thrown on the pile of failed attempts - it's hard to say right now.
What do you think about a robot like this? Share your thoughts with me!
I finally got Windows 11 installed and running on my main PC this week. Since the official release is approaching, I wanted to make sure I had time to test software out on Windows 11. As with any new install of Windows, the first apps I put on my PC are Fences, Start11, and Groupy. These help my productivity while I setup the rest of the OS and get all the other necessary applications installed.
While I'm downloading new installers and organizing my files, I usually have a couple of file explorer windows open to move and copy items around. This can get to be quite an unorganized mess with a big monitor, so this is where Groupy comes in.


As you can see in the screenshot above, I have four explorer windows open, but they are all tabbed in one window. This way I can easily and quickly change to each window depending on what I'm working on. It also makes it extremely easy to drag and drop files from one folder to another.
I have Groupy set up so it will group identical windows automatically. That way, any explorer windows I open will automatically open in my tabbed group.
Of course, this will also work the same way in Windows 10, but I wanted to show off that you can get tabbed windows in Windows 11!
AKA, why we play certain games over and over and over again...
Thursday, September 2, 2021 by Tatiora | Discussion: Stardock Blog
I've said it before, and I'll say it again: I am highly prone to nostalgia.
I am an emotionally memory-based person who lives and breathes sentimentality. I have a hard time parting with objects I own because I can remember exactly who gave it to me, the circumstances surrounding the gift, and why it was important at the time (even if it hasn't been useful for a very long time).
It's not just physical things, either - it's anything that allows me to return to a memory that I am fond of. Frequently, this means games - both video and board/card. My grandmother in particular was an avid Rummikub player; I can remember many times where we sat in her kitchen on a quiet afternoon and played together while we chatted.
Just down the hall, my grandfather and his study would house many other loving memories for me in the form of hours spent playing computer games together. Returning to these games still, all these years later, instills me with a joy and a fondness for those times that's hard to put into words.
I've taken a look at how nostalgia can drive people to replay games or repeat activities that they've done many times before, but what is nostalgia exactly? Let's talk a little bit about what it is and why it affects us.
What is Nostalgia?
The dictionary defines nostalgia as "a sentimental longing or wistful affection for the past, typically for a period or place with happy personal associations." The word comes from the Greek word nostos, which means "return" or "home," and the Greek word algos, which means "pain."
Nostalgia is sometimes also described as homesickness, although I view nostalgia as a more general term, while homesick is much more specific.
Why is Nostalgia so Powerful?
Think about it for a minute. Nostalgia is a return to our happy places and thoughts. These moments that made us feel things in our younger days, often for the first time, are what define what those emotions mean to us.
Specifically regarding happiness, nostalgia allows us to return and feel grounded toward that which built our feelings and how we react to the world around us as we have grown. Recalling our past experiences allows us to build better present experiences, and nostalgia can serve as an aid in that regard.
However, not all nostalgia is happiness. It seems silly, conceptually, to long for any days or memories that aren't happy memories for us, but all experiences, whether you define them as good or bad, form us in some way. Nostalgia can help people deal with anxiety surrounding change. Our memories are grounded, they can't change anymore - because they're memories. They've already happened.
Does Nostalgia Have a Psychological Effect?
Dr. Krystine Batcho, a licensed psychologist and professor of psychology at LeMoyne College, says that nostalgia is a "wonderfully complex paradoxical experience." According to Batcho, nostalgia serves a number of functions.
Ultimately, nostalgia is an emotional experience that unifies. It helps unite our sense of who we are, our self, our identity over time - but over time, we also change in pretty incredible ways. Nostalgia helps connect us to our authentic self and remind us of who we have been, so we can compare ourselves to who we are today.
A podcast interview with Dr. Batcho that I found on the American Psychological Association's website is what got me thinking about this. You can listen to (or read the transcript) of the whole thing here.
Nostalgia Today
I think it's fairly obvious that there are many corporations seeking to appeal to peoples' sense of nostalgia in order to make their products or services more relatable. Networks are bringing back the shows of our childhood and making them accessible to us in hopes that we will share them with our own children and perpetuate the cycle of fond memories.
Admittedly, nostalgia has driven me to purchase certain remastered games or collectors editions before. You could say that I am prone to marketing tactics - and you wouldn't be completely wrong there - but in many cases it isn't the marketing that sells me on purchasing an old favorite. It's the sense of happiness that I remember, that feeling of nostalgia that drives me to return to that state of being a kid again, even if just for a little bit.
What games hit your nostalgia button? Do you enjoy revisiting those memories? Share your thoughts with me!
CursorFX has always been one of my favorite customization apps and was an effortless way to get started customizing your Windows desktop. The default Windows cursor is boring, and CursorFX allows you to easily change it to one of thousands available on WinCustomize. There are all kinds of cursor themes available. Some with minimal designs and some with really amazing animations.
First, get CursorFX from here or as part of your Object Desktop membership. Once installed you'll already have a handful of cursors included that we picked as some of our favorites just to get your started. Just select the cursor you want to use and hit Apply, or just double-click the cursor.

If you ever need to get back to the Windows cursor, just apply the Windows Default and it will go back to the default cursor. When you're ready to try out some additional cursor themes, head over to WinCustomize.com and check out the CursorFX gallery. Here you can browse and download thousands of additional cursor themes in a variety of designs and styles.
Are you into sci-fi? Put a Starship as your cursor!
Maybe MacOS is your style?

Or maybe just a cool cursor design like this.
The point is there is a ton of cursor themes to choose from, and it's a fun way to give your desktop a bit of personalization no matter what style you like!
Thursday, August 26, 2021 by Tatiora | Discussion: Stardock Blog
I remember when I had my first interview at Stardock.
One of the people in the room, a guy named Kris, looked at me and fired off a series of PC user questions, things like: what kind of computer do you have, what operating systems do you run, and what web browser do you use?
I answered each, and when I got to the web browser part and answered Chrome, he fired back with a question that caught me off-guard.
"Why?"
...honest answer? I have no idea why. It was just what I used (and still use)! I don't remember exactly what I said - though, considering I'm about to hit my 6 year anniversary next month here at Stardock, I'm guessing I answered the question to his satisfaction - but I do remember pausing after the interview to re-ask myself that same question.
Why did I use Chrome over any other web browser?
I mean, some of the reasoning is straightforward. I like its design, it is fast and efficient, and it has a solid amount of security. However, other web browsers, especially nowadays, have the same features - so why choose Chrome, specifically?
Prior to Chrome, I had always used Firefox. I didn't ever have any issues with it, so my switch to Chrome must have been because a friend recommended it to me or because I needed it for something specific - I honestly don't remember anymore.
Anyway, the browser landscape has changed significantly over the last few years. What's most important to us as PC users in a browser certainly has some variables, but in general I think we're concerned about three primary things: Speed, Security, and Customization.
Speed
Obviously, we don't want to have to wait forever for a website to load, so speed is one of the most important qualities in a web browser. Some web browsers demand a lot of your system's resources, while others take up less and run a bit more smoothly in the background. These factor into the browser's speed.
It's important to look at a browser's compatibility, also - they need to be able to work with your current version of Windows (or whatever OS you're using) and need to run efficiently. How much memory a web browser takes up is also important when you're factoring in elements of speed and efficiency.
Security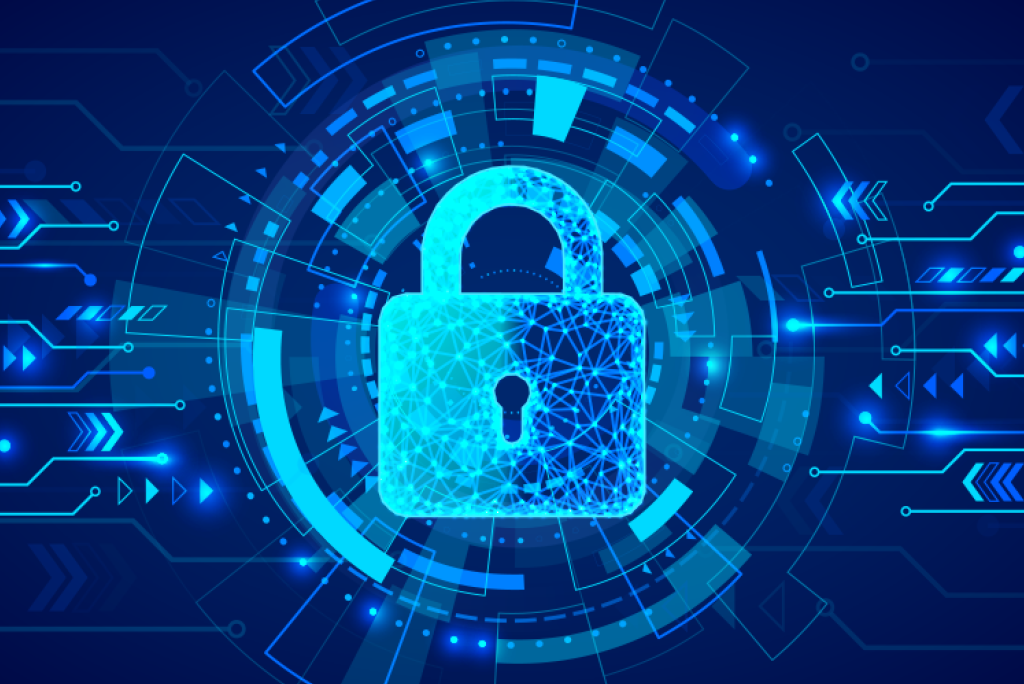 I talked about this in another blog, but the Internet can be a bit of a murky place to navigate at times. There are lots of anti-virus programs out there to help keep your PC safe, but one of the first lines of defense is going to be a secure web browser.
Some browsers offer full suites of security tools to protect your identity and shield against malware, while others don't have a method for blocking cookies and ads efficiently. It's not a good idea to rely on your browser alone to provide defenses against someone who might want to compromise your identity online, but it's a good first line before you add on the other bells and whistles.
It's worth noting that Microsoft Edge now comes with a built-in password manager, which is an awesome security feature to have in a web browser. The other browsers haven't quite caught up to this just yet.
Customization
The tools and add-ons that you can apply to your web browser can make or break your experience when surfing websites online (do people still say "surf the web" anymore, or is that an old-person thing?).
Some tools do things like strip webpages of clutter, leaving only the text, which makes it much easier for you to focus. A lesser known browser, called Opera, even has a built-in cryptocurrency wallet. It is also known for its Speed Dial add-on, which consists of pinned tiles on your home screen and a toolbar for accessing frequently used services.
Edge offers voice-reading of web pages, Firefox lets you instantly save a page to Pocket, and Chrome for Android has tab groups and dark mode. All of these things boil down to personal preference and what tools are important for you to have in order to use your web browser in a way that will work for you.
PC Magazine has a really excellent article about the most popular browsers and what makes them unique from one another. They also wrote one on the best alternative web browsers (half of which I'd never heard of). I definitely recommend giving them a read!
What web browser do you use? Why did you make that choice? Share with me!
One of the most requested features for Fences has been target-based rules, which we added in the latest Fences update. There's a variety of uses for target-based rules, but the one we'll talk about today is using these rules to make Steam desktop shortcuts go directly to a fence of your choosing.
For example, I have a fence called 'Steam Games' on my desktop that I only want Steam shortcuts to be in. I want them to be automatically sorted into that fence when I download a new game from Steam.

Open the Fences configuration and open the 'Sorting & organizing' window. Now, look for the "target-based rules" section.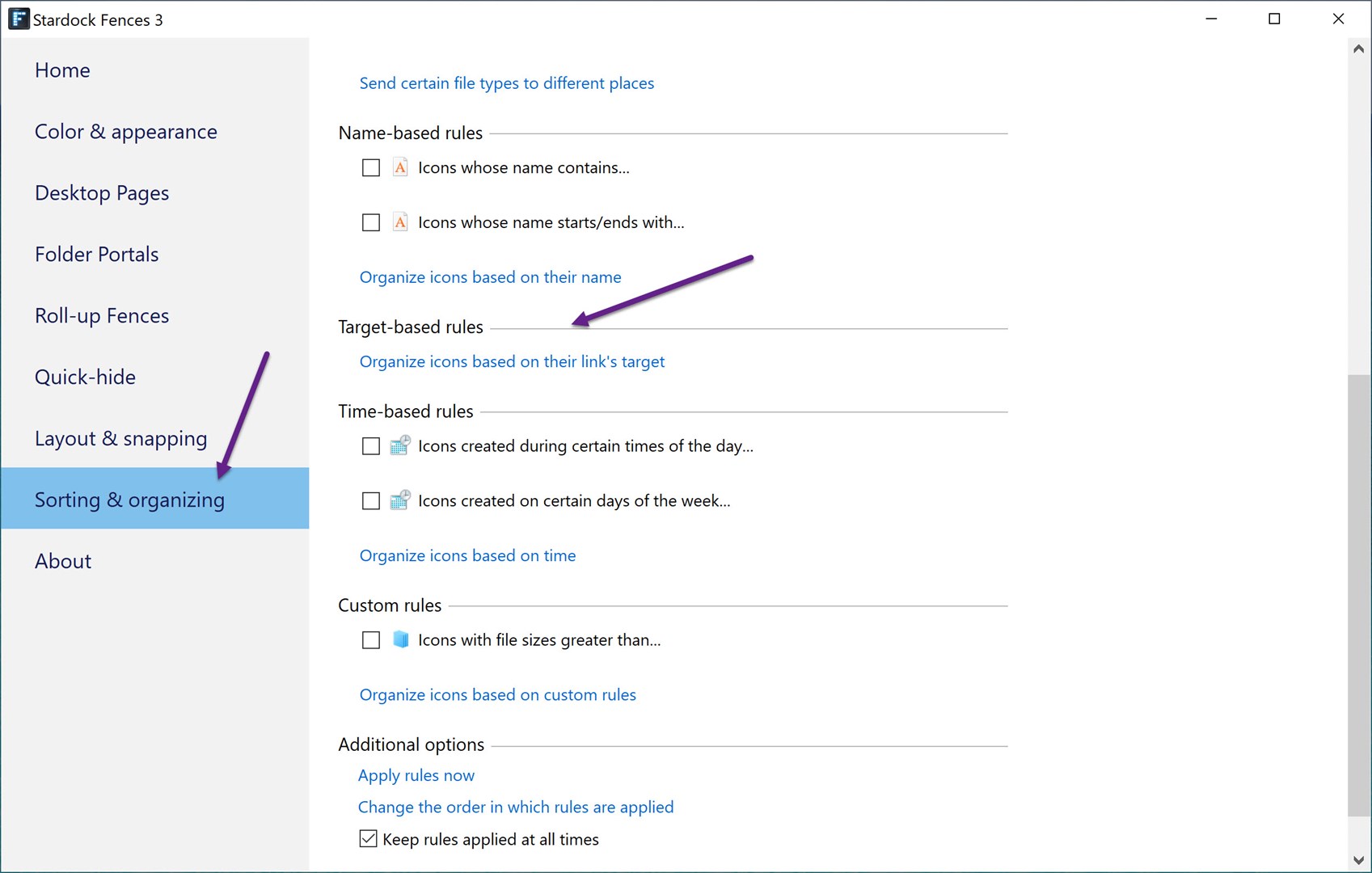 Clicking the text there will give you some options on how you want to create this rule. For this example, we'll use the 'Link's target contains...' rule.
Now, a new window comes up where we can add the parameters for our new rule. Selecting the drop-down menus will give you several options to choose from. For the Steam links we'll start off with defining them like this: target starts with steam://.

Click 'Add additional criteria' to add another entry.
For this one, we'll select the icon type and set it as a shortcut (link) as that is what a Steam shortcut is. Click OK and we can now set which fence we want these icons to be placed in. Here I chose my Steam Games fence.
You can choose to run the rules right now to organize your desktop, and you can set Fences to always apply these rules.
Now all your Steam shortcuts should be organized into your selected folder!